E-ZPass

Customer Service

In observance of Indigenous Peoples Day, the Maine Turnpike Authority Headquarters and E-ZPass Customer Service Center will be closed on Monday, October 10th. Service through ezpassmaineturnpike.com is available.

Regular business hours will resume Tuesday, October 11th.
Note
If your license plate is currently in violation or has past violations you are not eligible to use this payment method. Please contact Customer Service at 1-888-MTA-PASS (1-888-682-7277).
You can use this page to make a toll payment if you do not have an E-ZPass account and you passed through a lane on the Maine Turnpike that was not staffed by a toll collector.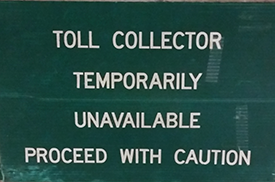 For example, you may have seen a Toll Collector Temporarily Unavailable sign or you may have accidentally driven through an E-ZPass Only lane.
Please have the following information available before you begin:
Missed toll information - date, time, plaza
Vehicle registration information - plate number, state of registration, plate type
Credit card information - valid credit card