If most of your travel will be in a state other than Maine, you should consider
other

E-ZPass

facilities
to see if they offer a discount for your travel patterns.
Note:
You will not receive discounts for travel outside of Maine with a Maine Turnpike
E-ZPass
. Maine Turnpike discounts only apply to travel on the Maine Turnpike.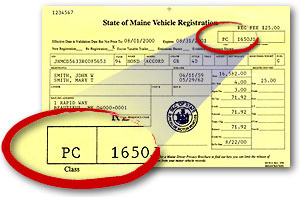 This is a Personal Account Application for Class 1 vehicles (2 axles, 4 tires maximum):

(includes passenger cars, SUVs, vans, pick-up trucks, and motorcycles)
Please have the following information available before you begin:
Vehicle registration information - plate number, state of registration, plate type
Credit card information - valid credit card
Personal Accounts Only
Personal E-ZPass Accounts are for non-commercial (or non-business) use only. If you operate a business vehicle, a vehicle used for a commercial purpose, or a vehicle for hire, you must open a Business Account.
For Business Accounts, you can download a Business Account Application or call the E-ZPass Business Department at 1-888-682-7277.
NOTE:
If you already have a Maine Turnpike
E-ZPass
account, you can
login to your account
with your Username and Password.