Vehicle Tag/Device Info
Vehicle Tag/Device Info
Windshield Mount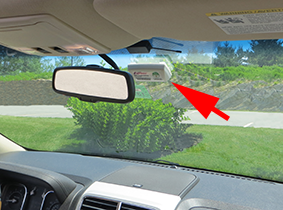 Clean and dry the inside of your windshield around the rearview mirror.
Identify the front face of your

E-ZPass

tag (it will have the label with the Maine Turnpike Logo and the tag serial number). This side faces the interior of the vehicle with the arrows on the tag pointing toward the roof.
Locate the correct position for the tag — the upper center portion of your windshield behind the rearview mirror, at least 1 inch to the right of the mirror and at least 1 inch below the top edge of the windshield. If your vehicle has tinted glass, make sure the device is at least 1 inch below the tinted section of glass.
There are four adhesive strips: two are permanently mounted to the tag, and two are for mounting to the windshield. Without removing the second set of adhesive strips from the tag, carefully remove the protective backing from the mounting strips on the rear of the tag.
Turn the tag right side up facing you. Place the tag in the correct position and press firmly against the glass for 15 seconds to achieve a good bond.
Your

E-ZPass

tag may be removed by gently lifting one corner of the tag to separate the adhesive strips.
Please note: Do not try to remove the mounting strips from your windshield and reuse them. An extra set of mounting strips was provided with your

E-ZPass

order. You may order additional mounting strips by calling

E-ZPass

Customer Service at 1-888-MTA-PASS (1-888-682-7277), Mon-Fri, 8 AM-6 PM
License Plate Mount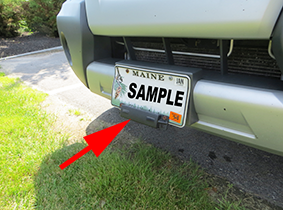 Identify the flat side of your

E-ZPass

tag. It will have the sticker with the Maine Turnpike Logo. This side should face inward to your vehicle.
Fasten your

E-ZPass

tag to the front license plate using the existing top mounting bolts and the knock-out holes at the bottom of the

E-ZPass

tag, so you do not cover the state name on your license plate. Tighten the bolts securely, but do not over tighten.
Please note: Your

E-ZPass

license plate tag should be attached to the center of the front bumper, even if your license plate is in a different location.
Mounting for Vehicles with Special Windshield Features
The vehicles listed below have been identified as having special features that require an exterior License Plate Tag (LPT) or alternative placement as noted. In general, windshields that contain metal in the glass (metal oxide) and mirrors with compass or temperature readings may prevent the E-ZPass signal from being read properly. Also, the following glass features may interfere with the E-ZPass signal and require alternative or exterior mounting: solar ray, solar tint, heated, heat reflected, insulated, Insta-Clear. Please contact the dealership where you purchased your car to see if your vehicle contains any of these features.
Make
Model
Year
Feature
Aston Martin
Vanquish
2001-2007
Insulated glass
Aston Martin
Vantage
2003-2008
Insulated glass/Heated
Audi
A4
1995-1998
Audi
A6
1998-2013
Audi
A8
1998-2003
Bentley
Continental
2004-2007
Bentley
GT
BMW
128
2008-2013
BMW
325
2006-2013
BMW
328
2007-2013
BMW
525
2004-2013
BMW
528
2008-2013
BMW
535
2010-2013
BMW
645
2004-2013
BMW
745
2004-2008
BMW
750
2009-2013
BMW
5 Series
2004-2007
BMW
7 Series
2002-2013
BMW
X3
2011-2013
BMW
X5
2007-2013
BMW
X6
2008-2013
BMW
Xf
2000-2006
Buick
Lesabre
1992 Only
Buick
Park Avenue
1991-1992
Solar ray
Buick
Rendezvous
2001-2005

Top right corner of windshield

Buick
Roadmaster
1993-1996
Solar ray
Cadillac
Catera
1997-2001
Solar ray
Cadillac
Concours
1993-1998
Cadillac
Deville
1989-1999
Cadillac
Eldorado
1992-2002
Cadillac
Fleetwood
1989-1992
Cadillac
Seville
1992-1999
Cadillac
Sixty Special
1993 Only
Cadillac
Touring Sedan
1992-1998
Chevrolet
Caprice
1993-1996
Heat reflective
Chevrolet
Corvette ZR-1
1990-1995
Chevrolet
Impala
1993-1998
2001-2002
Heat reflective
Chevrolet
Lumina APV (Van)
All
Solar ray/Solar control

Top left or right corner of windshield

Chevrolet
Astra
2006-2009
Chevrolet
Corvette
1990-1998
Heat reflective/Solar control
Chevrolet
Lumina
All
Solar ray/Solar control
Chevrolet
Venture
1997-2007
Solar control

Top left or right corner of windshield

Ford
Crown Victoria
1988-2006
Insta-Clear
Ford
Taurus
1986-1991
Jaguar
S-Type
2000-2004
Jaguar
VDP
1999-2004
Jaguar
XJ Series
1999-2004
Heated
Jaguar
XK Series
1999-2004
Landrover
Range Rover
2003-2013
Lincoln
Continental
1988-1994
2001-2002
Insta-Clear/Metallized windshield
Lincoln
Town Car
1990-1997
2001-2002
Insta-Clear/Heated
Mazda
626
1990-1997
Solar control/Metal oxide

Try standard mounting; may need LPT

Mazda
929
1988-1997
Solar control/Metal oxide

Try standard mounting; may need LPT

Mercedes
All models
1998-2001

Centered below rearview mirror. Half of the tag should be in the tinting, the other half out.

Mercedes
CL500
2002-2006
Mercedes
CLS500
2006-2013
Mercedes
E320
2003-2009
Mercedes
E350
2010-2013
Mercedes
ML350
2006-2007
Mercedes
S320
2007-2013
Mercedes
S350
2003-2013
Mercedes
S430
2000-2006
Mercury
Grand Marquis
1988-1994
2001-2002
Insta-Clear/Metallized
Mercury
Sable
1986-1994
2001-2002
Metallized windshield

Try standard mounting; may need LPT

Oldsmobile
Custom Cruiser
1990-1997
Solar control
Oldsmobile
Eighty-Eight
1992 only
Oldsmobile
Ninety-Eight
1991-1995
Oldsmobile
Silhouette
All
Metallized windshield
Pontiac
Aztec
2001-2006
Pontiac
Bonneville
1992 Only
Pontiac
Transport
All

Top right corner of windshield

Porsche
Cayenne
2003-2013
Porsche
Panamera
All (2010-current)
Subaru
SVX
2002-2006
Volkswagen
Rabbit
2006-2009
Volvo
S80
1999-2013
Volvo
XC90
2003-2013
* Note: The information on this list may change as new vehicle models and options come to the market.