Vehicle Tag/Device Info
Vehicle Tag/Device Info
Windshield Mount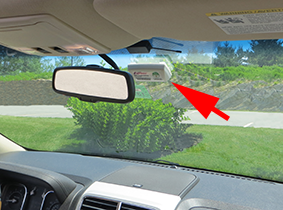 Clean and dry the inside of your windshield around the rearview mirror.
Identify the front face of your

E-ZPass

tag (it will have the label with the Maine Turnpike Logo and the tag serial number). This side faces the interior of the vehicle with the arrows on the tag pointing toward the roof.
Locate the correct position for the tag — the upper center portion of your windshield behind the rearview mirror, at least 1 inch to the right of the mirror and at least 1 inch below the top edge of the windshield. If your vehicle has tinted glass, make sure the device is at least 1 inch below the tinted section of glass.
There are four adhesive strips: two are permanently mounted to the tag, and two are for mounting to the windshield. Without removing the second set of adhesive strips from the tag, carefully remove the protective backing from the mounting strips on the rear of the tag.
Turn the tag right side up facing you. Place the tag in the correct position and press firmly against the glass for 15 seconds to achieve a good bond.
Your

E-ZPass

tag may be removed by gently lifting one corner of the tag to separate the adhesive strips.
Please note: Do not try to remove the mounting strips from your windshield and reuse them. An extra set of mounting strips was provided with your

E-ZPass

order. You may order additional mounting strips by calling

E-ZPass

Customer Service at 1-888-MTA-PASS (1-888-682-7277), Mon-Fri, 8 AM-6 PM
License Plate Mount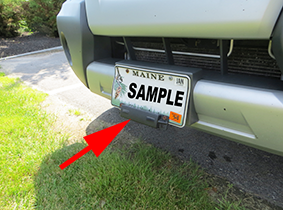 Identify the flat side of your

E-ZPass

tag. It will have the sticker with the Maine Turnpike Logo. This side should face inward to your vehicle.
Fasten your

E-ZPass

tag to the front license plate using the existing top mounting bolts and the knock-out holes at the bottom of the

E-ZPass

tag, so you do not cover the state name on your license plate. Tighten the bolts securely, but do not over tighten.
Please note: Your

E-ZPass

license plate tag should be attached to the center of the front bumper, even if your license plate is in a different location.
Mounting for Vehicles with Special Windshield Features
Some vehicles have special features that require an exterior License Plate Tag (LPT) or alternative placement. In general, windshields that contain metal in the glass (metal oxide) and mirrors with compass or temperature readings may prevent the E-ZPass signal from being read properly. Also, the following glass features may interfere with the E-ZPass signal and require alternative or exterior mounting: solar ray, solar tint, heated, heat reflected, insulated, Insta-Clear. Please contact the dealership where you purchased your car to see if your vehicle contains any of these features.